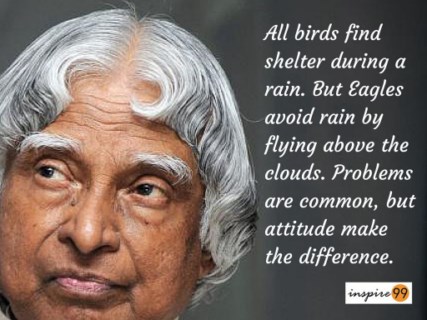 The "Missile Man, People's President", the man himself;  Dr. APJ Abdul Kalam. Dr. APJ Abdul Kalam rose from humble beginnings and earned the reputation of being the "people's President" who endeared himself to all sections, especially the young. He was born and raised in Rameswaram in Tamil Nadu on October 15, 1931.  Kalam, is known for having a unique style, joined the Defence Research and Development Organization (DRDO) after studying physics and aerospace engineering and graduating from Madras Institute of Technology.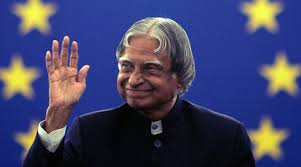 Kalam had a simple living. Kalam's love for technology is well known and he kept himself abreast of the latest developments mainly through radio. "He did not have a television set in his living quarters. He got his news either from radio or newspapers. The only TV set at his Rajaji Marg residence was used by his staff," said his former media advisor SM Khan.
Kalam was also an author He had penned books like A vision for the new Millennium, Wings of fire- an autobiography, Ignited Minds and A Manifesto for change: A sequel to India 2020. A.P.J Abdul Kalam received various prestigious awards like the Padam Bhusan, the Padma Vibhushan in 1990, and the Bharat Ratna in 1997. He was also the recipient of the Von Braun Award (2013) from the National Space Society "to recognize excellence in the management and leadership of a space-related project". Following his death, the Tamil Nadu state government announced that his birthday, 15 October, would be observed across the state as "Youth Renaissance Day".
He dedicated his entire life to the welfare of motherland. Kalam died on July 27, 2015 after he was hospitalized in a very critical condition at a private hospital in Shillong. He remained active until the last day of his life. Some of the life lessons which could be learned from him: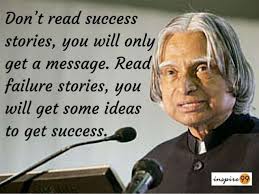 "You have to dream before your dreams can come true."
"My message, especially to young people is to have courage to think differently, courage to invent, to travel the unexplored path, courage to discover the impossible and to conquer the problems and succeed. These are great qualities that they must work towards. This is my message to the young people."
"To succeed in your mission, you must have single-minded devotion to your goal."
"Let me define a leader. He must have vision and passion and not be afraid of any problem. Instead, he should know how to defeat it. Most importantly, he must work with integrity."
"Great dreams of great dreamers are always transcended."
"Man needs his difficulties because they are necessary to enjoy success.
"Look at the sky. We are not alone. The whole universe is friendly to us and conspires only to give the best to those who dream and work."
"You see, God helps only people who work hard. That principle is very clear."
He will always be remembered for his contribution to society and humanity. We all should be proud of him and also to be an Indian and should follow his sayings in our lives. All this would help us to become a better person. If you have any queries of suggestions regarding the post or anything else leave a comment below we will reply to you at the earliest.