Title: How to list the best entry level job in your CV?
Landing a job as a fresher is in itself a job- finding the best positions, assessing pay packages, job descriptions and further opportunities of growth. Youths in India have a long standing complaint that unless recruited from campus placement drives, finding a job as a fresher becomes difficult. The main obstacle between a fresher and his dream job is- EXPERIENCE. What is more ironical is that- if a fresher does not get a job, where in the name of God will s/he gain experience from??
Keeping aside all kinds of job mismatches, there is still hope for freshers to land great jobs in their industry. Here are some key points which will help you land a great job as a fresher, helping you embark on a great career.
Preparing an impressive resume
The bedrock to landing a good job is a strong resume. A resume must look stellar to a hiring manager and make him/her think "Where was s/he all this while??" Follow a format which highlights skills and their application in a particular job, experience so far in technical or managerial positions, objective of working in the job and contact details. In all likeliness, the resume won't go beyond a page, but it's a great thing because hiring managers do not have more than 12-15 seconds to spare to go over your CV.
The pointers listed below are invaluable almost when creating a resume as a fresher.
Avoid including too much of information. Precision and context should be your guiding stars when it comes to creating the best resume. Analyse the position for which you are applying and come up with the information bits which would appeal to a hiring manager of that position. For instance, if you are applying to be a software tester, you can take out information pieces such as "performed stand-up comedy at the local laughter club" from your resume.
Always cite references. Hiring managers often call up the references you have provided to find out your credibility and bona fide status as an employee. Some of the people whose references can be cited are professors whose courses you have taken or under whom you have worked as a research assistant, managers who mentored you at internship positions etc. Avoid citing parents, siblings, boy/girlfriends as references, because, quite obviously they won't offer a true picture of you as an employee.
You can look up job portals such as Naukri.com and Shine.com to view a few examples of the ideal resume for a fresher. Better yet, log into myrefers.com to get your visual CV made.
Hang on.. what is a visual CV?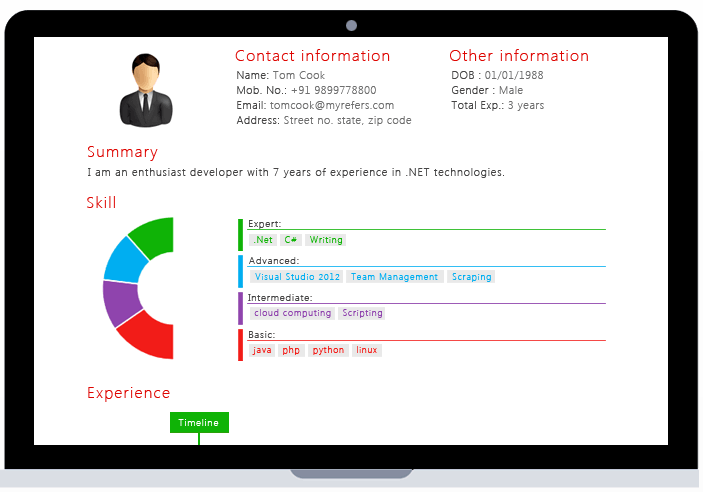 Only THE most coolest way to express your true colorful self which would get you noticed 6 times more than a boring, black and white CV would! It clubs your skills under 4 heads- basic, intermediate, advanced and expert using color coding, includes a one liner summary and a time line based years of experience illustration. The visual CV is rounded off with contact and personal information displayed on top. It is vibrant, clutter free, simplistic and immensely powerful!
Listing yourself on Job Portals
Job Portals can be a great source of first employment opportunities as companies often post job listings on these sites. Upload your CV, fields of interest and objective behind looking for a job. Sign up for a paid program as it would lead to more targeted job alerts.
There are plenty of job portals (naukri.com, indeed.co.in and yours truly!) wherefrom you can get great entry level jobs.
A word of caution- you may receive a LOT of alerts from BPOs which can get irksome if you are not interested in the sector. Nevertheless, for a lot of gain, you can bear a little pain.
Mailing Hiring Managers
Often hiring managers do not go out with a microphone proclaiming job interviews and hiring processes. Dropping a mail to hiring managers creates a small caveat which can be widened up in future. Letting a hiring manager know you are interested in a position gets you noticed and shall bring your name to mind when the company needs to hire someone.
Forced applications have not been known to bear much fruit because HRs often caste them aside. But then, why leave this stone unturned?
Contacting others for recommendations
Most companies are adopting a referral based hiring technique where they are sure to get great employees who bring a lot of experience, clarity and dynamism to different projects. Getting a referral for a position can cut an edge among other candidates who have applied for a position and shall fetch you a good pay package.
Get in touch with your seniors from college or university to recommend you for a position. You can also try out this unique job portal (www.myrefers.com) where employee referrals are the mainstay of getting jobbed.
Packing your bags for your city of dreams
Albeit an expensive technique, many youngsters actually pack their bags for Bangalore, Delhi and Mumbai for better opportunities. Being in the city gives them an edge over the others as they can score a lot of walk-in interviews which they cannot get to know sitting at home. The process may be a time consuming one but it does give good results. The average time taken to find employment this way is around 2-3 months. So gear up to ask your parents to hike up your allowance!
Added tips for a successful job hunt
Don't lose hope- Be all about the silver lining rather than the cloud. So what if you didn't get placed through campus interviews? There are plenty of companies offering entry level jobs that did not visit your campus but would be more than happy to hire you. The process may be a long drawn one, but will yield results eventually.
Be prepared- Keep brushing up your notes, project reports and dissertations. You never know where that one shot comes up from.
Stay in the loop- Keep checking job portals, websites of companies and other news bulletin for walk-in interview announcements. Join a few Facebook groups which list entry level positions in various cities.
Create a Linkedin account- Having a Linkedin account is very important because you can project yourself the way you want to. A lot of firms also include job listings on the site for entry level position seekers to pounce on.
If tried hard and sincerely, landing a fresher's job that pays well can actually be a cake walk!