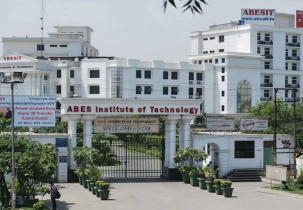 Academy of Business and Engineering Sciences (ABES) College, Ghaziabad is on of the top rank college present in the Delhi NCR region. ABES Engineering College, Ghaziabad was established in 2000. The college is approved by All Indian Council for Technical Education (AICTE), New Delhi and affiliated to Uttar Pradesh Technical University (UPTU). The college is managed by Society of Educational Excellence (SEE),which was established in 1999 with a dream to provide composite and quality training to the young minds in engineering & management education. The institution is accredited by National Board of Accreditation (NBA) and is also ISO 9001- 2000 certified. The college provides high quality technical & management education in following courses B. Tech, MCA, MBA and M.Tech degrees under the guidance of highly qualified and motivated faculties.
Infrastructure of ABES College, Ghaziabad:
Infrastructure here is quite astonishing. One would surely like it, the blocks along with hostels are well designed and well maintained. There is centralised air conditioner for all the blocks in the whole college. green surroundings, lots of trees and plants in the whole campus. In the academic zone, there is a beautiful front lawn having different flowers.Stadium is a big one that acts as hosts to different cricket matches between corporates and college teams and even other teams that wish to play in ABES CRICKET CUP. Day-night cricket matches are also introduced here in this college after the inauguration of flood lights by Mr.Kapil Dev.
Classrooms:
To create a learning environment all the Classrooms and Tutorial rooms are air-conditioned. In every classroom, LCD projectors are used which enhances the learning process and helps to understand the complex concepts through the three-dimensional view. which makes the study easier.
Library:
Library is the most common hangout place for those who loves to read books. So, it's important that the environment of the library should be reading friendly and supportive for book lovers. The college campus of the ABES College Ghaziabad has a well organised central library which contains the collection of around 1,00,000 books of Indian and foreign authors related to the various courses.
Workshop:
Without Basic engineering practical skill, the engineer is incomplete. So, keeping this in mind ABES college a well organised and equipped workshop for all the streams. The workshop is capable of following operations Carpentry, Welding, Fitting, Machining etc.
Laboratories :
The ABES college, Ghaziabad has the various laboratories related to the various streams and branches  to enhance the practical knowledge of the students. The some of the laboratories are as follow:
Electrical & Electronics Lab
Instrumentation Lab
C++ Lab
Control system Lab
Measurement & metrology Lab
Power system Lab
CAD Lab
Mechanics of Solid Lab
Dynamics of Machine Lab
Sports and Cultural festival:
The college management is equally active in organising sports and cultural activities time to time on the college campus. The main attraction of the sports activity is ABES cricket Cup. and college also organises various cultural festivals in the college to inspire students to participate in the cultural activities.
Course Offered in ABES College, Ghaziabad:
These are the various course offered in the Academy of Business And Engineering Sciences (ABES) College, Ghaziabad in the various streams are:
Undergraduate Courses:
Civil Engineering
Mechanical Engineering
Computer science engineering
Electrical and electronics engineering
Electronic and communication engineering
Information technology
Postgraduate Courses
Postgraduate courses:
Computer science engineering
Electronics and communications engineering
Mechanical engineering
Pro and Con's of ABES college, Ghaziabad:
The various pro and con's of the ABES college, Ghaziabad as told by the students who has studied there are as following :
Pros:
One of the best colleges in Delhi NCR and in top 3 colleges of Ghaziabad.
Infrastructure is quite astonishing.
Air conditioned classroom.
Better Placement record. Average Package lies in between 3.25- 4.2 lacs per annum.
Well educated faculty.
World class Auditorium.
Cons:
If your attendance is less than 75% then you are detained without any second thought.
Internals that will be provided to you will be purely what you got.
They will call your parents if you don't attend your classes and Mass bunk to bhool hi jaao.
Strict rules and regulation like school for ID card and dress code.
For more information, you can visit the official website of the ABES college, Ghaziabad at www.abes.ac.in .