A day Owe to all the Women: Happy Women's Day
March 8, 2016 by Ayushi Mishra
Today is 8 march 2016 which is International Women's Day. The world celebrates its first women's day on 8 march 1914 to avoid discrimination, to heal the women's sufferings and avoid them through sexual abuse.
It is celebrated globally which aims to inspire women across the world and celebrating their achievements for their betterment. Originally it is called as International Working Women's Day.
 The 2016 theme for International Women's day is "Planet 50-50 by 2030 : Step it up for Gender Equality "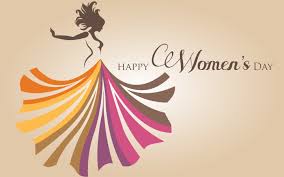 Women's Footprints on History:
Throughout history, women's have made extraordinary contributions to their societies. Some are well known, some are less but all have been trail blazers.
Indian Society:
 In India's patriarchal society, the men are always supposed to be better than women. But there is no such place left where women are being dominated and still proved themselves above the thoughts of the world.
Priyanka Chopra, Saina Nehwal, Sunita Williams, Michalle Obama, Chanda Kocchar are such names which are from different fields. Examples will become less to show the achievements and passion of women.
But sadly,in India women is supposed to be the goddess of home( ghar Ki laxmi ) but why is she still beaten by her husband, being molested and being harassed. We are getting modern but loosing our traditional and cultural roots.
So,this is not one day to owe respect to the women but on this occasion let's take a pledge that every girl and women will be respected regarding their thoughts, to maintain their individuality and commitment on gender equality, women empowerment and women's human rights. A woman plays different role in her life as being of mother, sister, wife, friend and many more. As we have always heard in our childhood that God can't come always so he made the mother and that's true….
So, hats off and salute to all the ladies and wish them to their freedom and to their choices.
-Aishwarya Gupta