Hello everyone.. I am sure that everyone of you will be enjoying your post exam holidays. But with the holidays, there will also be a pressure of gate preparation. As at the end of the month there is a GATE 2016 Exam. And I am sure that the aspiring candidates would have been ready to crack the exam. So here are some tips to prepare for the exam. Go through them and make sure you have prepared well.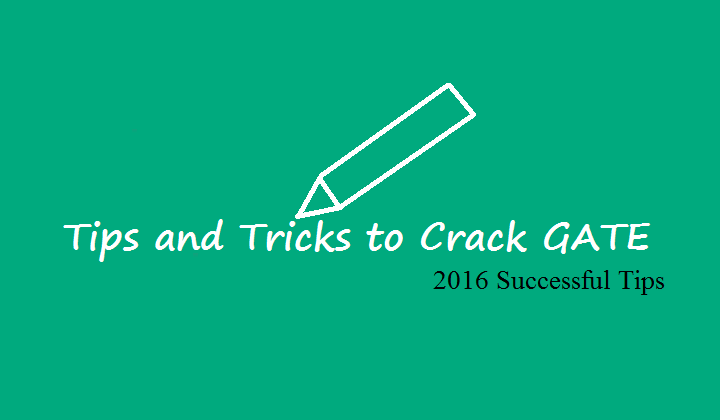 The candidates should know about the whole syllabus and the pattern of the exam. So that they should not feel any difficulty while attempting the exam.
Candidates need to study from the best reference books which covers all the syllabus and study material.
Solve the past ten years gate question paper, to get hold on time and the pattern of paper.
While solving the previous year question paper, make balance between the time, speed and accuracy.
Study the subjects with priority wise. Prioritise the subjects on the basis of marks allotted to them. Then create a timetable and then study according to the time table.
While solving any gate question, if the solution takes more than 8 number of steps you must re-look to the approach. As the questions in gate are not lengthy but based on concepts.
Any problem can be tackled in number of ways. So try intuitive and innovative method which requires less time to reach the correct option quickly.
Also give mock test at the end to analyze your preparation. Mock Test serves 3 purpose-
 Mock Test introduces you to the interface and instructions of the Gate exam.
It teaches you time management. As without time management there is no way that you can put up good performance
It helps you to know your weak areas and recurring mistakes. This is a very crucial way to fill the loopholes in your preparation.
Attempt the questions in the exam first which know the best then another questions.
Do not strain yourself till the last minute. Leave the books aside for few days before exam. Have a good time and relax.
And now at last, do not underestimate yourself. Just forget about everything and just dedicate quality time for your preparation. Don't worry about what others think about you, you are not doing all this for them. You are doing this for yourself. It is your dream so just go get it. Nobody is stopping you except yourself. So ALL THE BEST to all the aspirants of GATE 2016.
.