Jo Beet Gayi So Baat Gayi : Harivansh Rai Bachchan
January 24, 2016 by Ayushi Mishra
Hello friends, today I have something very interesting for you all. A poem from Mr. Harivansh Rai Bachchan. He was born on 27 November 1907, in Pratapgarh Uttar Pradesh. He described himself as: "A body of clay, a mind full of play moment's life". Reading his poems, one feels a sense of life and playfulness. There was a time when thousands and thousands would fill into theaters and auditoriums just to listen to him recite his poems, a particular favorite being the epochal 'Madushala'. Through his poems he focused on the common man's urge for freedom and the sensuousness underlying in this quest, which made him a literary star embraced by the public. So here we have one of his poems JO BEET GAYI SO BAAT GAYI.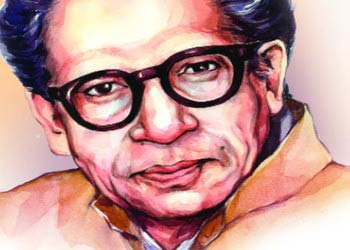 जो बीत गई सो बात गई (Jo Beet gayi so baat gayi)
जीवन में एक सितारा था
माना वह बेहद प्यारा था
वह डूब गया तो डूब गया
अंबर के आंगन को देखो
कितने इसके तारे टूटे
कितने इसके प्यारे छूटे
जो छूट गए फ़िर कहाँ मिले
पर बोलो टूटे तारों पर
कब अंबर शोक मनाता है
जो बीत गई सो बात गई
जीवन में वह था एक कुसुम
थे उस पर नित्य निछावर तुम
वह सूख गया तो सूख गया
मधुबन की छाती को देखो
सूखी कितनी इसकी कलियाँ
मुरझाईं कितनी वल्लरियाँ
जो मुरझाईं फ़िर कहाँ खिलीं
पर बोलो सूखे फूलों पर
कब मधुबन शोर मचाता है
जो बीत गई सो बात गई
जीवन में मधु का प्याला था
तुमने तन मन दे डाला था
वह टूट गया तो टूट गया
मदिरालय का आंगन देखो
कितने प्याले हिल जाते हैं
गिर मिट्टी में मिल जाते हैं
जो गिरते हैं कब उठते हैं
पर बोलो टूटे प्यालों पर
कब मदिरालय पछताता है
जो बीत गई सो बात गई
मृदु मिट्टी के बने हुए हैं
मधु घट फूटा ही करते हैं
लघु जीवन ले कर आए हैं
प्याले टूटा ही करते हैं
फ़िर भी मदिरालय के अन्दर
मधु के घट हैं,मधु प्याले हैं
जो मादकता के मारे हैं
वे मधु लूटा ही करते हैं
वह कच्चा पीने वाला है
जिसकी ममता घट प्यालों पर
जो सच्चे मधु से जला हुआ
कब रोता है चिल्लाता है
जो बीत गई सो बात गई
—   हरिवंशराय बच्चन
Mr. Harivansh Rai Bachchan at the age of 93, in 2003 took his last breath. He is not in this world but he left a legacy behind him. With all his poems he gives us a lesson.
If you have any query or suggestions regarding the post or anything else, you can leave a comment below we will reply to it at the earliest.