KIET wins the Annual Tech Fest of IIT Guwahati – Techniche 2014
September 14, 2014 by Ankit Sharma
Recently IIT Guwahati organised it's tech fest and invited several institutions all over India. Fest was named as Techniche 2014. Some colleges of UPTU also participated but KIET students rocked there and wins over all the competition they faced. We are also sharing a small report of the same.
REPORT OF KIET E-CELL'S VISIT TO IIT-GUWAHATI
September 12, 2014
Team KIET E-CELL, working under the aegis of CSE Department & TBI KIET, started its enthusiastic journey to IIT-Guwahati for representing KIET in the TECHNICHE-2014 on September 2, 2014 at 6:30 a.m., under the leadership of Sachin Saxena (Student of CSE Department) and the guidance of Mrs. Seema Maitrey (Assistant Prof. CSE Deptt).
A team of nine brainiacs aimed at achieving great heights in Techniche'14, the annual techno-management fest of IIT-Guwahati.
The team comprised of:
| | |
| --- | --- |
| Name | Designation |
| Sachin Saxena | Team Leader |
| Neeraj Kumar | Core Team Member |
| Nidhi Agarwal | Core Team Member |
| Shrey Saxena | Core Team Member |
| Shubham Mishra | Core Team Member |
| Pulkit Maheshwari | Core Team Member |
| Anushka Verma | Core Team Member |
| Nirmit Agarwal | Core Team Member |
| Saumya Srivastava | Core Team Member |
After a several hour long journey, the team reached the IIT campus and sought its accommodation. The fest began on September 4, with an inauguration ceremony and other events.
The competitions began on September 5 and continued till September 8. Team KIET E-CELL had targeted the Corporate Module, whose result is mentioned below:
EVENT                           POSITION
1)    Tour De' India                                  All India Rank 3
2)    Brainchild                                         All India Rank 3
3)    Case Study                                         All India Rank 4
4)     Best Manager                                    2 Members in top 5
The above said positions were achieved after defeating several IIT's and IIM's, which in itself is a great accomplishment for a B.tech team.
With several more glories added to it, the team concluded its trip and started its journey back to Ghaziabad on September 9, 2014 and reached the campus on September 10, 2014  around  12.25 a.m.
Here is the team Photograph of the KIET E cell members who participated in the event.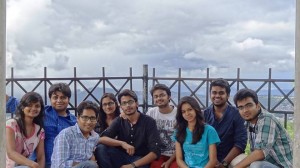 We congratulate KIET and KIET E cell members on this huge success of theirs, thus by raising that standard of talent in front of all UPTU Colleges.
UPTU Khabar wishes them all the best for their future !!